Black Nativity is the joyous account of an historic event that occurred 2,000 years ago. It's a celebration that tells the original story of the Nativity in scripture, verse, music and dance. Based on the Gospel of St. Luke, combined with the poetry of Langston Hughes, this song-play touches a special chord in the hearts of all. This legendary Christmas event, the Black community's Christmas gift to the world, is without a doubt a theatrical wonderment.
A joyous company of singers, actors, dancers and musicians delivers its powerful message of joy, hope, victory and liberation. Boston's captivating production by the National Center of Afro-American Artists is the longest running performance of Harlem Renaissance poet Langston Hughes' song-play in the world. We are pleased to present the audio version of this wonderful production.
Black Nativity is produced by the National Center of Afro-American Artists (NCAAA) as a gift from Boston's black community to all men and women of "good will." The textured, delicate voices of children and sonorous voices of adults have enthralled Boston audiences at performances of Langston Hughes' Black Nativity since l970.
NCAAA director Edmund Barry Gaither asserts "our cast of more than fifty embraces this perspective and has itself become an expansive family expressing these values." Although a few cast members have performed every season, about one-quarter of the cast is new each year. The children, some performing publicly for the first time, are especially exciting as they prove again that they are the hope for our future.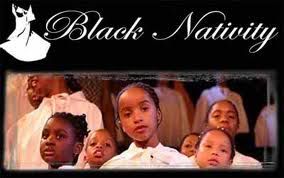 Black Nativity honors the conviction of NCAAA founder Elma Lewis and original Musical Director John Andrew Ross that spiritual and humane values have to be celebrated to build wholesome communities.
The famed Harlem Renaissance figure Langston Hughes was a close family friend to John Andrew Ross whose arrangements continue to anchor our production of Black Nativity under Executive Producer Voncille Ross and Co-Musical Directors Milton Wright and Marilyn Andry. The dramatic choreography of George Howard is interpreted anew by dance master Desiree Springer O'Neal.
The show is produced by the National Center of Afro-American Artists and will be broadcast in its entirety.
2011 Kwanzaa Teach-In
May You and the World be filled with Divine Purpose and a renewed Heart for Peace and Spiritual Prosperity, A Year Filled with "Enough" and the Spirit of the true meanings of the N'Guzo Saba.
So grateful for All the Blessings Bestowed and yet awaiting and Wonderful, loving friends like you.
OUR COMMON GROUND celebration of Kwanzaa will include the annual Kwanzaa message of Dr. Maulana Karenga and a review of the N'Guzo Saba, symbols and utility of the holiday.
THE N'GUZO SABA (The Seven Principles)
Umoja (Unity) To strive for and maintain unity in the family, community, nation and race.
Kujichagulia (Self-Determination) To define ourselves, name ourselves, create for ourselves and speak for ourselves.
Ujima (Collective Work and Responsibility) To build and maintain our community together and make our brother's and sister's problems our problems and to solve them together.
Ujamaa (Cooperative Economics) To build and maintain our own stores, shops and other businesses and to profit from them together.
Nia (Purpose) To make our collective vocation the building and developing of our community in order to restore our people to their traditional greatness.
Kuumba (Creativity) To do always as much as we can, in the way we can, in order to leave our community more beautiful and beneficial than we inherited it.
Imani (Faith) To believe with all our heart in our people, our parents, our teachers, our leaders and the righteousness and victory of our struggle.
VISIONARY LEADER, ACTIVIST and HUMANIST
1921 - 2004

The daughter of Barbadian parents who immigrated to Boston in the early twentieth century, Elma Ina Lewis, nationally recognized as a visionary arts leader and humanist, died New Year's Day 2004 of diabetic-related complications at the age of eighty-two.

Miss Lewis founded the Elma Lewis School of Fine Arts (ELSFA) for black youth in 1950 before foundations and corporations were interested in such projects.The school, which emphasized music and dance, produced many students who found work in Broadway musicals, and who built professional careers in the theater. In l967, she launched the Elma Lewis Playhouse-in-the-Park, which presented such greats as Odetta, Billy Taylor, and Duke Ellington.

In 1968, following a national conference of black creative intellectuals such as John O. Killen's in Chicago, Miss Lewis founded the National Center of Afro-American Artists (NCAAA). It consisted of professional programs in the visual and performing arts that paralleled the divisions of the ELSFA. Her goal was to bring together in one complex the best in teaching and professional performance, while affirming a populist commitment to arts accessible and ethnic heritage.

Under Miss Lewis' direction, ELSFA built a unique teaching program emphasizing character-building and multi-disciplinary arts instruction integrated through performance and exhibitions. With a staff exceeding 100, ELSFA annually offered rigorous classes in all of the arts to more than four hundred six to twelve year-old boys and girls, a hundred teen and adults, and it also taught all of the arts and technical theater in Norfolk Correctional Institution, where in cooperation with the prestigious Little, Brown, Publishers, inmates released Who Took the Weigh, a book of verse and essays. Extraordinary teachers of superb professional standing—such as African percussionist M. Babatunde Olatunji, dancer-choreographers Talley Beatty, Billy Wilson and George Howard, along with brilliant Bostonians such as musician/composer John A. Ross, Fashion Carousel team Gus and Lucy, dramatist Vernon Blackman—taught at the school where most students paid minimal fees.

NCAAA professional companies in dance and music, often drawing on the ELSFA's students, flourished, performing in Boston, at Jacob's Pillar, in Carifesta in the Caribbean, as well as in Brazil, Senegal, and Europe. The creative mix was intoxicating, and from it came many exciting productions including the NCAAA's well-known production of Langston Hughes' Black Nativity.

For the visual arts, Miss Lewis enlisted the help of the Museum of Fine Arts, Boston, (MFA) in developing and sustaining the NCAAA's Museum under the direction of Edmund Barry Gaither. This relationship produced ten jointly sponsored MFA exhibitions featuring the finest in African and African-American visual arts.

In l986, teaching and performing arts programs of the NCAAA were interrupted due to a fire, however the Museum continued on a separate site. Presently, new plans are being made to restore the teaching and performing arts divisions of the NCAAA, to expand its Museum, and to endow its future.

Miss Lewis' work brought many famous figures to Boston and to her students, including pugilist Muhammad Ali, actors Ossie Davis and Ruby Dee, musicians Thomas Dorsey, Mary Lou Williams and Eubie Blake, and activist Leon Sullivan. Eartha Kitt, Nina Simone, and many stellar personalities made a point of visiting her center.

During Boston's 350th anniversary celebrations, she caused Dakar, Senegal to be invited to the Great Cities of the World Conference, and co-presented Contemporary Art of Senegal at the Museum of Fine Arts, as well as Poetry of the Negritude Movement at the French Library.

Miss Lewis hosted the first delegation from the People's Republic China to visit the United States during the Nixon presidency, and still later co-hosted United States Ambassadors to African nations at Boston's zoo.

Miss Lewis, who possessed an extraordinary will partly inspired by Marcus Garvey's philosophy of self-reliance and nationalism, visualized an artistic and cultural center that would empower and dignify black creative and intellectual development, and celebrate black artistic genius on the world stage.

Her life's work was to establish this dream, through her teaching and through the institutions that she founded. As a visionary, Miss Lewis's dream was extraordinarily powerful. Tens of thousands were touched directly by her school and the NCAAA performances locally, nationally and internationally. Additionally, her vision and work commanded national respect as demonstrated by honors such as the Presidential Medal for Art presented to her by President Ronald Reagan, and her designation as a Fellow in the first group of John D. and Catherine T. McArthur Foundation Awardees.

Miss Lewis also received the Commonwealth Award, Massachusetts' highest award in the arts, and myriad other honors including nearly thirty honorary doctorates from universities including Harvard and Brown. In October of 2003, the National Visionary Leadership Project in ceremonies at Washington's J. F. Kennedy Center for the Performing Arts, named Miss Lewis, along with Ray Charles and John Hope Franklin, as a Visionary Elder.
NO CALLS WILL BE TAKEN.