2012 SEASON
22 December   Program Note
27TH Annual OUR COMMON GROUND KWANZAA Celebration and TEACH-IN
15  December
08 December
"Black America Slipping Into Darkness ?"
01  December
24 November
Please enjoy our library of previous programs. No LIVE broadcast tonight.  Next Week with Dr. Patricia Newton, President of the Association of Black Psychiatrist, I'LL BE LISTENING FOR YOU. Thank you for your listenership and support.
Join us on TruthWorks Network
Tuesday, November 27th   8pm ET
 "Black Women in the Prism . . .Unleashing the Power, Fury in the Light"
Hosted by the Black Women's Blueprint
November 17, 2013
OPEN MIC
"The Privilege of Numbers: LATINO RECOUNT"
November 10, 2012
November 5th  (10 pm) and 6th (11 pm)  
Campaign and Election Coverage SPECIAL
4  November  2012
27  October  2012
Black Florida Political Landscape
13 October  2012
OPEN MIC SATURDAY NIGHT
06 October  2012
The Presidential Debate
SOTUS and Affirmative Action
ALFO of The ALFO Show, Co-Hosting
29 September  2012
OPEN MIC SATURDAY NIGHT
22 September  2012
OH State Senator, Minority Whip NINA TURNER
15  September  2012
"Educating OUR CHILDREN"
08  September  2012
06 September 2012
OUR COMMON GROUND SPECIAL
01  September 25 
 25  August 
18  August  Report onMumia Abu Jamal with Dr. Raymond Winbush
11  August   Police Terrorism  
28  July  Race Discrimination and the EEOC
21  July  OPEN MIC Saturday Night
14  July   "Black Church on Fire"  Part 2
07 July   Program Note
  June , 2012
June 23, 2012  Black Church on Fire
 June 16, 2012
 Suzanne Brooks, Author, Activist
 June 9, 2012    OPEN MIC
June 2, 2012
May 19, 2012
 May 11,2012
 LIVE Interview with Marissa Alexander from Duval County jail following her sentencing to 20 years 
April 28, 2012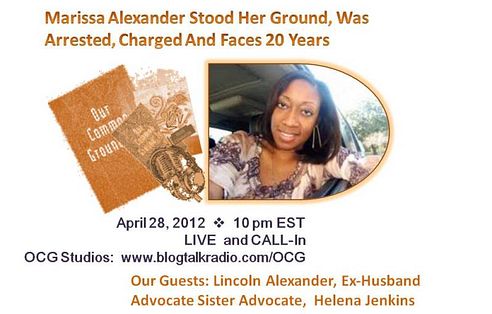 March 28, 2012
January 28
Guest Host, ALFO of The ALFO Show, TruthWorks Network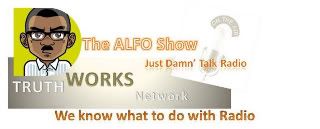 January 21
OPEN MIC
January 14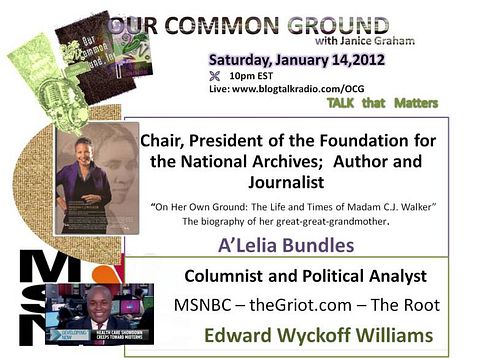 2011 SEASON
December 24
Annual Kwanzaa Teach- In
featuring "Black Nativity"

  December 16  Friday Special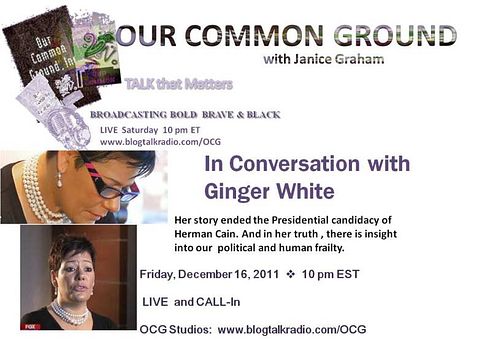 10 December 10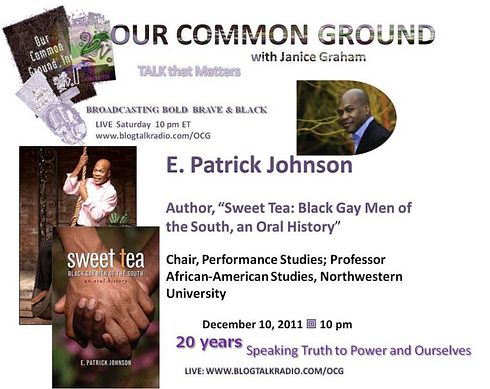 December 3
November 19
November 12
About Author Journalist Amy Alexander
November 5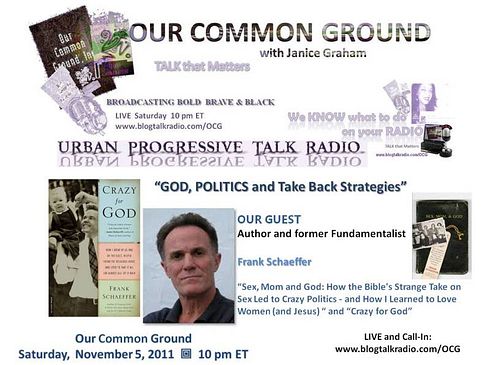 October 28
 October 29
October 22  OPEN MIC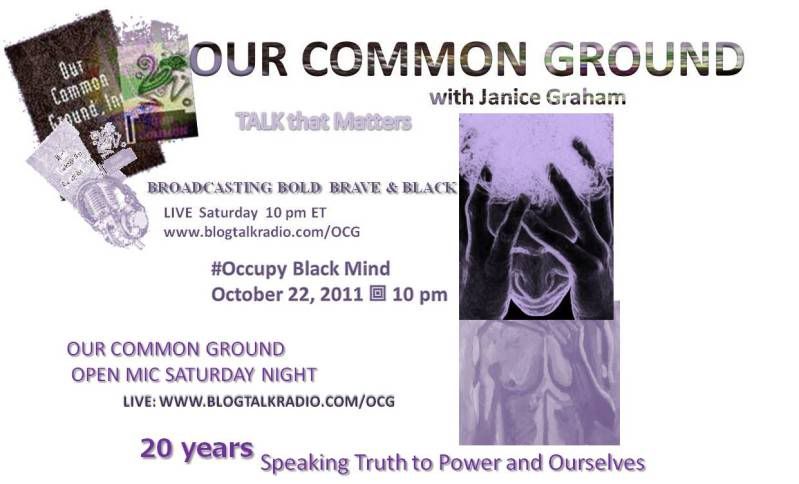 October 15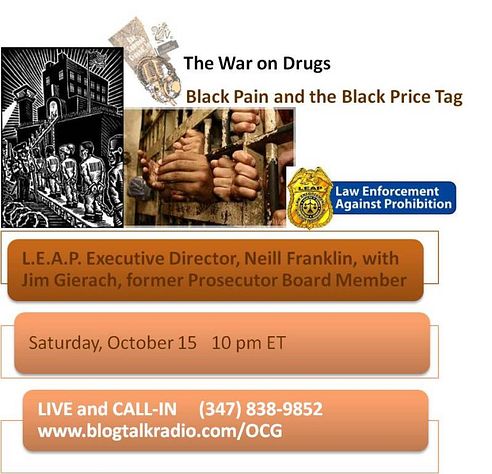 October 8
"The Price and Cost of Dignity"

October 1
•● ●•  Author, Jeff Sharlet
September 24
"The Murder of Troy Davis"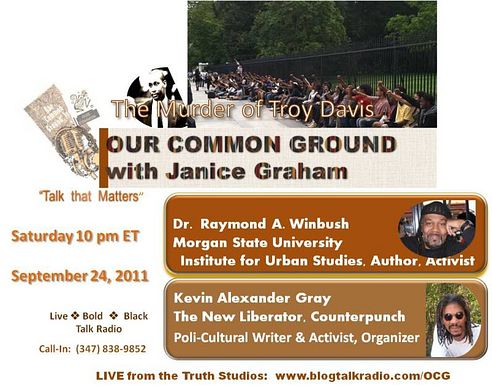 Broadcast Info
September 19 -21, 2011
Troy Davis Vigil
Open Mic
September 17, 2011
The Case of Troy Davis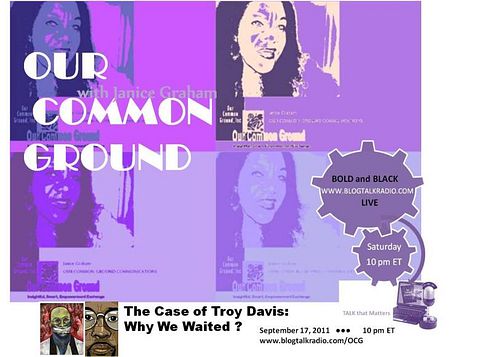 September 10, 2011
 August 13, 2011 ~ 10pm  ET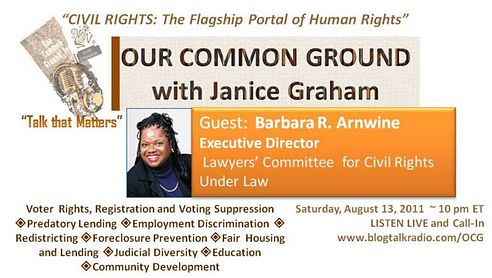 August 8, 2011 ~ 10pm  ET

"COMPROMISE or CONCESSION at What Expense ?"
OUR COMMON GROUND SPECIAL
Dr. Wilmer Leon of "Inside the Issues with Wilmer Leon, XM/Sirius Radio
and Janice Graham
August 8, 2011 10 pm ET
LISTEN LIVE 10 pm ET
http://www.blogtalkradio.com/OCG
Dr. Wilmer Leon wrote the commentary.  He and Janice will discuss it with you and get your input and responses.
OUR COMMON GROUND SPECIAL
 "The Price of Compromise and Concession"
Hosted by Janice Graham of OUR COMMON GROUND with Janice Graham and Political Scientist Dr. Wilmer Leon, "Inside the Issues with Wilmer Leon" on XM/Sirius radio.
"Compromise or Concession at Whose Expense?"
by Dr. Wilmer Leon 
Augus
t 6, 2011 ~ 10pm  ET
"Racial Coding in American Politics
Dr. Vincent Hutchings
Dr. Hutchings is a Professor of Political Science at the University of Michigan and a Research Professor at the Institute for Social Research. His research examines the ways in which political campaigns and the media frame information about racial issues in order to activate and make politically relevant the voters' racial attitudes.


August 8, 2011 ~ 10 pm
July 16   
Dr. Jared Ball, Morgan State University, Department of Media & Communications
OUR COMMON GROUND SPECIAL
Monday, July 18  10 pm ET 
Kemba Smith, Advocate and Author
"Poster Child:  The Kemba Smith Story"
 

OUR COMMON GROUND This Week
FRIDAY   JULY  8   OUR COMMON GROUND SPECIAL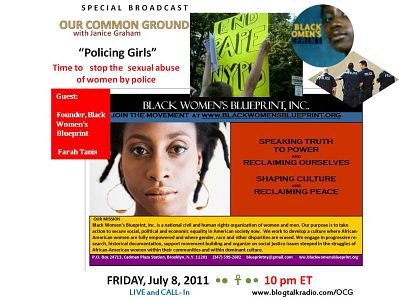 July 2, 2011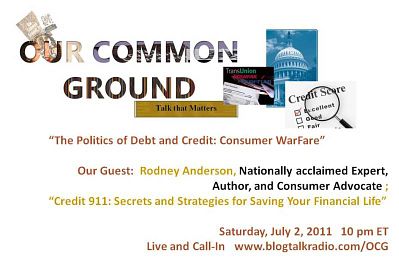 "The Politics of Debt and Credit: The Profits of Your Score"
Our Guest:
Rodney Anderson, author, "Credit 911: Secrets and Strategies for Saving Your Financial Life
June 2011  at OUR COMMON GROUND
June 25, 2011
" Black Studies and Black Politics"
Rhone Fraser and Lauren Burke
 Rhone Fraser, Author, Scholar and Playwright
Lauren Burke, Crew of 42
Celebrate  Juneteenth
Happy Juneteenth
  Saturday          June 18, 2011
Dr.  Wilmer Leon, PhD
Political Analyst and Talk Radio Host
"Inside the Issues with Dr. Leon"
 XM/Sirius satellite radio         
                 169 "The Power"